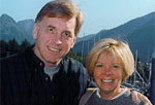 It seems to Jim Talley '78 that one of his favorite Wabash memories concerns "It Seems to Me That ... "

"On Thursdays, during the traditional Chapel period (the break between morning classes), any member of the Wabash community-faculty or staff or student-could give a short talk about something of interest to him," Jim remembered. "And then the gathered group would collectively discuss the issue raised. Students debated professors, and professors debated administrators, and we all had a lively discussion. I always found 'It Seems To Me That ... ' informative, entertaining, and enlightening."

Wabash's financial help allowed Jim to attend the College. As a result, it seemed to Jim he has an obligation to repay the favor. He and his spouse Val have included a bequest for Wabash in their wills.

Jim's fondness for "It Seems to Me That ... " might have sprung from his major, speech. After falling in love with the campus during an Honors Scholars Weekend visit, he immersed himself in the communal life of Wabash. He loved the football rivalry with DePauw; Elmore Day, with its random holiday from classes; Pan Hel; and classroom instruction that taught him "how to teach myself."

This lesson helped spur his success in life. After receiving his law degree from Vanderbilt, Jim returned to Orlando and became an attorney specializing in business-related trial work. "I am paid to learn about my clients' businesses-the intricacies of their processes, their manufacturing or assembly techniques, just how they go about making money," he said. "I learn new things every day."

Jim and Val celebrate their 24th wedding anniversary this year. They enjoy spending time outdoors, love to travel, and have been die-hard Orlando Magic fans since the team's first exhibition game. They're even season-ticket holders-"not much of a claim to fame these days," Jim said ruefully, referring to the team's record.

The Talleys regularly give to Wabash, and Jim serves on the College's Planned Giving Advisory Council. Because of their lifestyle and obligations, such as their ongoing support of various charities in the Orlando area, Jim and Val jointly decided a bequest would be the easiest way for them to make a significant gift to Wabash.

"I'm middle-aged now, at that stage of life where I'm no longer filled with promise or potential-I pretty much am what I am," said Jim. "I recognize the College as one of the most significant influences in developing whatever is good about me."

Because Jim and Val believe Wabash has good stewards, their bequest is unrestricted. "We can't predict what the needs will be years from now, but we trust the College will use our gift in the best way, given the circumstances at the time," he said.

"Wabash fulfilled its promise to me by providing me an outstanding well-rounded education. If other alumni conclude the College has deeply influenced their lives and success, they should consider giving to perpetuate the school so it can help others."