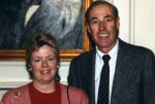 John T. Banghart '58 founded businesses selling turf grass (sod) and growing nursery stock for landscape use. So he understands the importance of planting seeds today that will bloom in the future.

That's just what he and wife Lynn did in establishing a charitable remainder trust (CRT) with Wabash last year. "It's a great income-producing idea," John said. And when they are gone, the trust remainder will help Wabash thrive.

The best way to fund a CRT is with appreciated assets such as stocks, bonds, or real estate. By transferring the assets into the trust with Wabash, you avoid the capital-gain tax you would have paid if you had sold the assets. You also receive an immediate income-tax deduction and income for life, with payments around 6% to 7%. There can be multiple income beneficiaries.

"You can specify how you want the remainder to be used by Wabash or just leave it unrestricted," John said. "If you wanted them to create an endowed gift with the remainder, such as a scholarship, prize fund, or something else, you have some choices ... The CRT is just a great opportunity, a real win-win."

John and Lynn placed no restrictions on Wabash's use of the trust remainder, specifying instead "what will best serve the college at the time it is received."

John made the most of his own time at Wabash. He majored in speech and minored in Latin, English, and history. During four years on the college golf team, he was voted most valuable player in 1956 and co-captain in 1958, and he represented Wabash in the 1956 NCAA championship at Ohio State. He still plays today, with a handicap between 8 and 10.

John was a member of the Sphinx Club, W-men's Club (president for one year), Glee Club, and Sigma Chi; Senior Council representative; and Chapel speaker. In 1957, following the awarding of honorary degrees, he spoke on behalf of the student body at a ceremony celebrating the 125th anniversary of the College.

"It was a privilege to attend during what I feel was 'the golden age of Wabash,'" John said proudly.

After graduation, he spent three years in sales for a building materials firm before starting the sod and nursery stock businesses in Northbrook, Illinois. He sold the tree nursery in 2004 but continues to own the sod nursery. Also a longtime member of the National Association of Realtors, he has sold many farm properties over the years but concentrates on residential sales these days.

John continues his involvement with his alma mater, for example, serving as reunion chairman for his class.

"I will always have a place for Wabash College in my heart," he said. "Wabash needs to live on for other young men, and our support will help make that happen."

To find out how you can support Wabash through a CRT or other gift, please call the Development Office at 765-361-6135 for more details.