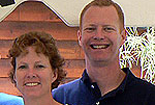 When Dr. Mark Lapiere '92 initially visited Wabash, he was told he'd be only the second person in 25 years to pursue pre-veterinarian studies on campus.

But Dr. Austin Brooks, who headed the biology department, "said no school would leave me better educated for postgraduate work in chemistry or biology," Mark said. "He was absolutely right. And given how friendly everyone was, I fit in and felt right at home from the start."

The native of Logansport, Ind., majored in biology at Wabash and graduated magna cum laude. "It was not only a great place to go to school, but to grow up, to have your values and beliefs tested but not exploited," he said. The faculty and staff were "a family" that "would bend over backward" in their concern for students.

"Friday nights we often had some members of the faculty over for dinner, and we would talk about not only school but other things going on in the country and world and our lives," Mark said. "My friends at larger colleges were amazed to hear that. The idea of instructors being interested in having this relationship with you outside the classroom was foreign to them."

Mark graduated from the veterinary school at Purdue University and today co-owns a practice that treats small animals-principally dogs and cats, but also rabbits, snakes, and other exotic pets-in Greensboro, N.C. His wife Ellen coached the women's golf team and taught at the University of North Carolina-Greensboro for four years. Today she's a stay-at-home mom to Sophie, 6, and Ryan, 3, and also teaches golf privately.

When the couple prepared their wills a few years ago, Mark included a bequest for Wabash to show his appreciation for its influence on his life. Recent studies show that the average age of someone putting together a will is 44 and the average age of someone creating a charitable bequest is 49.

"Obviously we wanted to take care of our family and kids first," Mark said. "That got me thinking about how the people at Wabash were also part of my family for four important years of my life. They shaped how I communicate, how I view the world. They gave me so many opportunities that I would have not had otherwise."

Giving through a charitable bequest will allow him to keep assets he and his family may need during his life and then continue his support of the College when he's gone. The gift will be used for scholarships to help others enjoy the benefits of a Wabash education.

Mark encourages other young alumni to consider giving back. "Wabash gave you the education, helped form your work ethic, or gave you the information to succeed in what you're doing now," he said. "Because of the College's size, even a small gift can make a huge impression on what Wabash has to offer students."