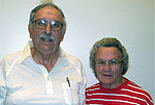 Oval Myers Jr. '58 jokes that he became involved in international agricultural work because "the West was already won and I was too old to go to the moon."

Maybe so, but the professor emeritus of plant genetics from Southern Illinois University Carbondale has gone plenty of other places to improve agricultural education: Afghanistan, Pakistan, Zambia, and Brazil.

"I love learning new cultures, working with the people, and giving them the assistance they need to solve their problems," said Oval, who farms near Carbondale when not traveling the world. "It appeals to my adventurous side."

In Afghanistan, ravaged by more than 25 years of war, civil unrest, and political instability, Oval and a colleague from the University of Illinois at Urbana-Champaign are assisting reconstruction efforts in work funded by the U.S. Agency for International Development (USAID). They train university faculty, ministry of agriculture researchers, and aid workers in the latest agricultural techniques and have introduced soybeans to the largely rural country.

They're assisted by faculty and researchers from Northwest Frontier Province Agricultural University in Peshawar, Pakistan, about a day's travel away from Kabul through the Khyber Pass. There Myers was part of a long-term aid project that modernized the curriculum, constructed new buildings, and integrated research into the life of the university.

In Afghanistan, 85% of college professors have only bachelor's degrees while dealing with a dramatically growing number of students. At one small university in a two-year period, the agriculture student body exploded from 200 to 900 students, with only 15 instructors. "So you can see how training the professors to master's level would benefit them," Oval said.

During his own college days at Wabash, where he majored in botany, Oval continued to live on his parents' farm near Roachdale, Indiana, and commuted to classes. While working the farm, he still found time to run cross-country all four years (the team was undefeated his senior year) and enjoy extracurricular discussions in the Scarlet Inn.

"Professors were always in there," he recalled. "It was always easy to blend into the conversation and put in your two cents' worth."

After graduating, Oval earned a master's degree at Dartmouth and his Ph.D. at Cornell. He taught various botanical subjects at the University of Arkansas for five years and then moved fully into agriculture, specifically research into soybean breeding and genetics, during 31 years at SIU. He and his wife of 48 years have two sons, one Wabash '82 and one DePauw '86, and five grandchildren.

To ensure that others will receive the benefits of a Wabash education, the Myerses have established a gift annuity with the College. They receive payments for life at a rate greater than fixed investments such as CDs. They also received a charitable income-tax deduction the year the gift was made and other tax benefits.

"I decided we could use the extra income, and it also locked in income that could benefit Wabash after I'm gone," Oval said. "I could have not attended the College without scholarship assistance. Wabash helped me; this is just a way of paying back."