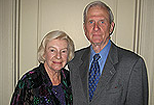 The Wabash education of W. Dale Compton '49 drove his success as a Ford researcher and college professor.

"Most men who graduate from Wabash would concur that the educational experience, as well as the trust that the institution places in its student body, helps them reach maturity and aim for success in life," Dale said.

The small-town native felt comfortable on the small Wabash campus and appreciated the faculty's concern for students. After Dale became interested in science, several professors-especially Duane Roller, nationally recognized for his methods of teaching physics-persuaded him to pursue graduate work.

Dale earned his master's from the University of Oklahoma, where he met his wife of 56 years, Jeanne, and his Ph.D. from the University of Illinois. After serving as a research physicist for the U.S. Navy for ten years, he taught at the Champaign-Urbana campus of the University of Illinois and directed the Coordinated Science Laboratory there.

From 1970 to 1986, Dale worked for the Ford Motor Company, first as the director of the Chemical and Physical Sciences Laboratory and then as vice president of research.

"Our research group developed the first on-board programmable engine controller," said Dale, who traveled to Ford plants around the world. "We also developed the first ethanol engine, for Ford of Brazil."

In the late '70s, he served as chairman of an inter-industry group of Japanese automotive makers and petroleum companies that worked on improving mileage and fuel emissions.

In 1988, Dale accepted the position of the Lillian M. Gilbreth Distinguished Professor of Industrial Engineering at Purdue University. Although retired now, he continues to run a Purdue research program using nanotechnology to develop a new class of structural materials for different uses.

As the home secretary for the National Academy of Engineering, he also travels the country promoting the organization.

Dale and Jeanne wanted to provide financial security for their three children while also celebrating Wabash's role in his life. They have used annuities to fund testamentary charitable remainder trusts, with their children set to receive a stream of income for life. After the death of the last beneficiary, Wabash will receive the trusts' remaining assets to fund scholarships for science and math students.

"The trusts are a good way for us to supplement our children's retirement income and Social Security, while supporting the long-term interests of Wabash," Dale said.

He encourages all alumni to consider a charitable gift to Wabash. "All of us need to think about giving back to those organizations that were influential in our lives. I know my Wabash education has been of enormous benefit to me."