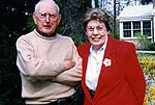 In 1947, Dr. Victor M. Powell was teaching at Dartmouth College when Wabash Dean Byron Trippet asked him to interview for a job as a speech instructor.

In that postwar time Wabash Professor William Brigance was helping shape the speech field, through his scholarship and leadership, as president of the Speech Association of America.

"Brigance was the biggest name in speech in the country," Vic said. "I told my soon-to-be wife that if I went out to Wabash for a couple of years and got the Brigance name on my résumé, it would probably open the door to go anywhere."

Vic and Marion came to Wabash for a two-year appointment-and never left. "We fell in love with the place and couldn't imagine going anywhere else," said Vic.

The Minnesota native became a Wabash legend in his own right as a speech professor from 1947 to 1989. He directed debate, taught speech, and served as the dean and acting president of the College at different points.

Vic is known for wry observations, such as why Indiana has produced so many writers. Observing that the state's climate is too hot and humid in the summer and too damp, chilly, and slushy in the winter to encourage outdoor activity, Vic once wrote, "Hence, for most of the year, the Hoosier stays indoors and dreams, and what could be more conducive to writing?"

At 88, this professor emeritus enjoys shooting the breeze with other retired colleagues at the Scarlet Inn. He is a fierce supporter of Wabash and the importance of a liberal arts education.

"Wabash's strength comes from being a small college, where teachers know their students and students know their teachers," he said. "Professors who only want research go to big universities, and that's fine, but the Wabash faculty is dedicated to the teaching of undergraduates."

Likewise, while Vic believes coeducation is important, "the single-sex atmosphere at Wabash allows men to bond together and form very strong, lifelong friendships," said the honorary alumnus of the class of '55.

Vic likes to joke that he got into the academic world by accident. He graduated from the University of Minnesota in 1941, the same year the Japanese attacked Pearl Harbor, and like most men expected a call from Uncle Sam. While he awaited that call, however, his debate coach secured an assistanceship for him at the University of Missouri, where, after four years in the service, he earned his master's and doctorate degrees.

In retirement, he and Marion, 82, volunteer with Meals on Wheels, the FISH Food Pantry, the Clothing Closet, and other nonprofit organizations. The couple has two daughters and four grandchildren.

Some time ago, the Powells established The Marion & Victor Powell-Nate Quinn Scholarship Fund, in honor of an exceptional Wabash art student from a "desperate background," as Vic put it. Quinn '00 impressed the couple with his talent and hard work before he moved on to New York to pursue graduate studies and work on the sets of Broadway shows.

Recently, the Powells set up a new gift annuity with Wabash that will ultimately benefit the scholarship.

"The gift annuity does two good things," Vic explained. "It enhances our income, with payments for life, and then makes a gift to the College when we're gone. I funded the gift annuity with appreciated stock that was paying nine-tenths of one percent. The rate we're getting from the annuity payments is a much more attractive 7.8 percent."

In addition to avoiding the capital-gain tax that would have occurred if they had sold the stock, the Powells received a charitable income-tax deduction for the year the gift was made.

Vic encourages other Wabash alumni and faculty, past and present, to consider establishing a gift annuity with the College. "It supports Wabash and it supports you. What could be better than that?"