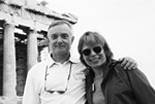 Students at Oxford University in England get a six-week break between terms to write papers. Robert E. Armstrong '74 used his instead to travel all over Europe.

"Travel was important to Bob," says his wife Leslie. "He believed that seeing new places, meeting new people, and having new experiences played a big role in lifelong learning."

Before his death from cancer in 2008, Bob had visited all seven continents. Some of his favorite sojourns were trips to the Galápagos Islands, the tiny South Asian country of Bhutan, and Antarctica-"magnificent," declares Leslie.

Bob attributed his passion for new experiences to Wabash. He was 16 when his father died and did poorly in high school, which led to a lack of self-confidence. He assumed he would be a blue-collar worker all his life.

In the small all-male atmosphere of Wabash, however, he received individual attention from caring instructors. As a result, he blossomed and came to believe in himself. By the time he left, he was a Phi Beta Kappa/summa cum laude graduate.

"The Wabash experience changed the course of his life," Leslie says. "Having the strong Wabash foundation allowed him to go to Oxford; one of his Wabash instructors, in fact, suggested it." Bob earned an M.A. in experimental psychology at Oxford in 1976 and then two more degrees at Purdue University-an M.S. in biology education in 1980 and a Ph.D. in agronomy in 1985.

In a varied, illustrious career, Bob chaired the science department at Holderness School in New Hampshire, served as an analyst with the Central Intelligence Agency, and was the executive director of the U.S. Department of Agriculture's Alternative Agricultural Research and Commercialization Center.

According to Leslie, he loved serving as a senior research fellow with the Center for Technology and National Security Policy (CTNSP) at the National Defense University, where he researched "bird flu" and authored a forthcoming book. He was also dedicated to the Army Reserves and juggled his responsibilities at the CTNSP with serving as a colonel. But he considered his greatest accomplishments his two sons (who live in Australia), two daughters, and one granddaughter.

In his estate Bob showed what mattered most to him by including a bequest for Wabash to establish the Petty-Mitchell Student Travel Endowed Fund Agreement, named in honor of his professors of biology and psychology respectively, Robert Petty and Francis Mitchell. The Fund will provide assistance for students for academic and experientially related travel such as off-campus programs, research, and conferences-those new experiences Bob fervently believed in.

In addition to modeling his values for his children-"You do this with your money rather than build a McMansion"-Bob was grateful for all the doors Wabash had opened in his life. "He felt that it was his responsibility to give back," his wife says. "Others had given so that he could have the benefit of the Wabash experience. He wanted others to enjoy that experience too."