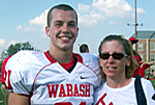 When his high school football coach first mentioned Wabash College as a possibility for a college football career, Rensselaer's Addrian Frederick had never heard of it.

Fortunately Addrian and his mother, Sophie Duley, came to know Wabash well. Lettering in three sports in high school (football, baseball, and basketball) and being named a two-time All-Conference and First Team All-Area selection, Addrian (#31) racked up eight tackles and played in all ten games for the Little Giants in 2006 as a freshman defensive back.

As a sophomore, he made 12 tackles and played in nine games. Last year he was named to the 2008 All-NCAC team.

Off the field Addrian majors in psychology and is a member of Beta Theta Pi.

"Addrian loves the football program and just everything about Wabash," says Sophie. "It's a perfect fit. Everybody knows each other, everybody is like family, and the professors care about the kids' learning and want them to do their best."

A medical transcriptionist, Sophie notes that multiple scholarships and one loan made it possible for Addrian to attend Wabash.

"We never could have afforded Wabash without the scholarships," she notes. "Addrian would have needed to get major loans and carry a lot of debt into adult life. We're able to swing Wabash with the scholarships and what I contribute."

Grateful for the generosity of others who made Addrian's education possible, Sophie wanted to give back to Wabash herself. Because of her tight budget, however, she couldn't afford an outright gift.

The solution came in the form of an insurance policy through her job. In her will Sophie specifies that Wabash will receive a certain sum from the policy after her death.

"I don't have the money to donate now," she says. "Thanks to the insurance policy, I'll be able to donate to Wabash and a few of my favorite charities when I'm gone."

Life insurance is one of the most effective ways to maximize giving to Wabash. It is possible to make a significant future gift without giving away assets that might be needed in the here and now.

Some good choices as charitable gifts are older policies that are no longer needed to help survivors or those that will add to the size of a taxable estate without providing much benefit to loved ones.

Sophie encourages others to join her in supporting Wabash.