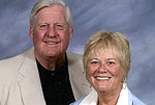 Growing up in Crawfordsville, Max Servies '58 knew all along where he wanted to attend college: Wabash.

"I didn't have to go anywhere else to find the best small college in the world," said Max, a legendary Wabash wrestling coach for 40 seasons who also served for 33 years as athletic director before his retirement in 2000. "Wabash was right there."

Max's association with the College began in 1954 when he was a freshman wrestler and football player for the Little Giants. The biology major has fond memories of professors who genuinely cared about their students. For example, one invited his class out to a restaurant to celebrate the supposed publication of his book-only to surprise Max with a birthday cake, the real reason for the gathering.

Max earned a master's degree from Purdue University and taught and coached at Crawfordsville High School before returning to Wabash in 1960 as head wrestling coach and assistant football and track coach. He proved the truth of his motto "Victory is Sweat" with 38 consecutive winning seasons and a career record of 487-118-8. His 1999-2000 team was named the GPA National Champions at the NCAA Division III Championships-the second time in three years that his squad led the nation academically.

Asked the secret of coaching success, Max laughed. "Oh gosh, I was in the right place at the right time," he said. "I had a tremendous group of athletes to draw from, so it was easy and fun. People who are involved with Wabash are naturally winners."

Max and his wife Nancy, who divide their time between Florida and Crawfordsville, have six children and 21 grandchildren. When they recently finalized a testamentary charitable remainder trust with Wabash, they did so with qualified retirement-plan assets-which would have been the most heavily taxed part of their estate if left to their family. When Max and Nancy die, their beneficiaries will receive payments for life (or a specified period of years) from the trust, and then the College will receive the remaining assets.

"It doesn't take away from anything we want to leave the kids," Max said. "If you're like us and don't have anything to give but retirement funds, it's the best way to give to Wabash."

Max encouraged other alumni to consider making a planned gift to the College. "If it hadn't been for Wabash, I don't know where I would have been," he said. "I'm sure everybody who went there feels the same way."