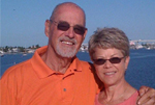 Paul A. Saxton '60 is grateful to Wabash for giving him a second chance at college.

Saxton would later go on to a successful business career, retiring as chairman and CEO of General Housewares in Terre Haute. But at the time, he had been kicked out of Williams College in Massachusetts for poor grades. Several state schools in Ohio turned him down.

One Williams classmate was a Crawfordsville native. "He said, 'There's this great school in my hometown,'" Saxton remembered. The classmate's father talked to Wabash's dean of admissions, and Saxton was soon enrolled.

The English major initially didn't think much of Wabash. But he pledged the Sigma Chi fraternity and "I felt wanted right away. I soon had an appreciation for the academic rigors of Wabash."

After graduating, Saxton hoped to become an English professor. He was working on a Ph.D. at Ohio State University when most of the English department quit during a controversy over banning certain speakers on campus. Without money and advisors needed to complete his doctorate, he got a publishing job in Columbus.

Saxton later successfully championed the Oskar food processor and rose to vice president for sales and marketing at the Sunbeam Appliance Company. In 1987 General Housewares founder John H. Muller, Jr., recruited him as his replacement at the maker of cookware and cutlery.

Since retiring in 1999, Saxton and his wife Kathleen divide their time between Chicago and Florida. The former Wabash history minor is writing an extensive family history, which he has traced back to the last Crusade (1271-1272).

Saxton used his profits from selling General Housewares to invest in long-term municipal bonds, which were paying at an all-time-high interest rate then. Since then, their rate has declined, and if they were sold they would be subject to capital-gain tax.

In December, Saxton used one bond to fund a charitable gift annuity with Wabash that will provide the couple fixed annual payments for life at a higher rate than will the bonds. "It's the best deal around," he said.

Saxton encourages other alumni to support Wabash. "It's a great place that provides a lot of financial aid to kids who might not get into college otherwise," he said. "Wabash has stayed true to its values. That's remarkable."