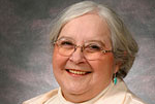 For more than two decades Susan Veatch Cantrell honored Wabash men and their families by telling their stories with her words: feature articles in Wabash Magazine, official citations and tributes, stories about students, and even regular newsletters to parents. They were eloquent essays, sometimes touching or leavened with a sense of humor, that captured the essence of a person.

It's fitting that a final bit of writing, her will, honored her Wabash connection when the senior writer for Wabash's Public Affairs team died in January 2008 from a variety of health problems. Her will established a testamentary charitable remainder unitrust, which will eventually help students attend Wabash through the Susan Veatch Cantrell Scholarship Fund.

Susan's love affair with Wabash started early. She grew up in Crawfordsville with a singing voice so fine and clear that it was often likened to the sound of a bell. She even had the lead in the Wabash College production of Guys and Dolls when she was in high school. Later, as a sophomore music major at Indiana University, she decided she didn't want a career in music. Her voice teacher reportedly cried when she told him.

A determined individual, Susan left Bloomington for Washington, D.C., with no job and no connections. She started as a librarian in a mobile library truck, then joined the staff of Republican Charles Percy of Illinois and worked her way up to writing his speeches. She went on to have her own broadcasting career at WCBS radio in New York City and WBBM in Chicago.

Through it all, Susan's genuine interest in people, their lives, and the things that mattered to them earned her many, many friends-from farmers to judges, from prominent politicians such as New York Governor Mario Cuomo and CEOs, to the woman who lived next door.

Susan showed similar generosity and compassion for helping other people with the testamentary charitable remainder unitrust in her will. The trust will pay her husband Jim an annual stream of income for the rest of his life, based on a percentage of the fair-market value of the trust assets, as revalued every year. If the value of the trust principal increases, so does Jim's payout from the trust.

Such trusts are a nice way to provide for loved ones but also make a gift to Wabash. When Jim is gone, the remaining assets in the trust will establish the Susan Veatch Cantrell Scholarship Fund-helping Wabash students write their own life stories.