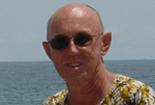 Retirement bored Jim Hutcheson '68. So he earned a nursing degree at Northern Michigan University and has worked in the renal care unit at OSF St. Francis Medical Center in Peoria since 2009.

Once he accumulates two years of clinical experience, Jim will qualify to serve as a nurse with the international humanitarian organization Doctors Without Borders. "That could be responding with a medical team to an acute crisis or being stationed in one of the 60 countries Doctors Without Borders serves," he said.

Nursing is just the latest twist for Jim. He taught at Wabash and high schools in the United States and Africa, built a log cabin in Michigan's remote Upper Peninsula, and retired from the U.S. Army National Guard in 2001 with 26 years of military service. Coming from a 96-student high school, Jim appreciated the small, intimate feel of Wabash (about 650 students then). "All my professors were inspiring and top notch," he said. "I honestly don't know where I'd be today without Wabash."

After teaching biology for two years at Wabash, Jim earned a master's in botany from the University of Wyoming and a teaching certificate from Illinois State University.

His favorite classroom experience was teaching chemistry in Ghana for the Peace Corps from 2001 to 2003. "That gave me a greater appreciation for simple things we take for granted, like having clean drinking water and lights when you flip the switch," he said. Jim doesn't take for granted how his Wabash education shaped his life. He has named the College the sole beneficiary of a veteran's life insurance policy and a partial beneficiary of his IRA. "I can draw from the IRA as I need to and still have a substantial amount go to Wabash on my death," he explained.

Jim encouraged other alumni to consider what their Wabash experience has meant to them. "The gifts of previous grads made Wabash what it was when you attended," he said. "Make a gift, 'pay it forward,' so future grads can learn and enjoy in the same atmosphere."