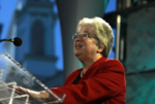 Dr. Melissa A. Butler was one of three female Wabash instructors when she began teaching political science in 1976. Some alumni complained that a woman shouldn't be teaching at a college for men.

Instead, Dr. Butler became the first woman to earn tenure at Wabash, and she led the development of its International Studies Program. The lifelong Philadelphia Phillies fan created an innovative freshman tutorial that uses political theory, American culture, and baseball to teach studying, writing, and researching skills. In 2008 she was awarded the Eugene N. and Marian C. Beesley Professorship for distinguished teaching that prepares young men for leadership.

In 2009 she even became an honorary alum of the class of 1985. "So there!"

Dr. Butler will "slouch toward retirement" by going part time and retiring in 2013. "I'll miss the close relationship between students and faculty and the solid academics at Wabash," she said. "Wabash takes students who are motivated a long way. We literally change their lives."

She has most enjoyed the baseball class and the international study and travel. She has taught at universities in Sheffield, England, and Shanghai, China, as well as co-led student trips for an up-close look at the political and economic impact of the European Union.

"They're related in my mind," Dr. Butler said. "The baseball class takes the familiar and opens students to going much farther with it. The international travel takes the unfamiliar and shows students they can learn and adjust to new things."

She plans to travel in retirement and spend winters sailing at a home in Florida.

To help with those goals, Dr. Butler established a flexible deferred charitable gift annuity with Wabash. It will defer until December 31, 2015, at which point she can elect to receive payments or continue deferring for up to six more years. Each subsequent year of deferral increases the payment percentage. By funding the gift with appreciated stock, she avoided capital-gain tax.

"I wanted to help Wabash, and I wanted to find a way to fund my retirement," she said. "The deferred charitable gift annuity is perfect for that. I set the date as 2015 because that's when my early retirement package runs out and social security will kick in. Then I'll better know how much money I'll need."

Dr. Butler would like Wabash to use her gift to fund international education and faculty development-"so other faculty members can have the opportunities I've had."