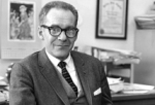 Growing up in Chicago in the 1930s, Ruth Thomys remembers her brother Karl-Heinz Planitz with great fondness. "He was a wonderful brother who never minded a little sister tagging after him. Later he taught me tennis, driving, how to enjoy classical music, and even took me to my first opera."

Professor Planitz taught German in the Modern Languages Department at Wabash from 1957 until his retirement in 1979. Remaining in Crawfordsville until his death in 1995, Karl is remembered as a man devoted to the study of German language and literature and to the students of Wabash. Among many talents and distinctions, Karl served during World War II as chief translator for European languages in the Surgeon General's Office, where his primary responsibility was interviewing German prisoners of war. He is perhaps best remembered by many for his fond interests in art and music, fine wines, limericks, nature, and animals, which explains why he purchased and spent many summers in an old one-room schoolhouse in the middle of the Maine woods. In 1989 Karl-Heinz was voted an honorary alumnus by the National Association of Wabash Men.

In honor of his memory and legacy at Wabash, little sis Ruth contributed to a fund benefiting students studying German. The fund has been used for several purposes, including helping with several immersion-learning trips to Germany. Ruth writes, "It's most gratifying [knowing] how the fund has grown and even enables students to fly to Germany ... therefore, I decided to put a similar amount in my will."

Last year, during a visit from a member of Wabash's Advancement team, Ruth inquired about advancing the gift she'd planned on leaving in her will in the form of a current gift. During that conversation Ruth disclosed that she was earning some small dividends in a brokerage account and thought of selling the stocks to put the proceeds into some better-producing investments, but she wasn't too excited about the capital gains that the sale would trigger. The staffer suggested the idea of creating a current gift annuity to better help her with some tax and income issues. By using some of her appreciated stock, Ruth was able to create a gift annuity that is paying her 9.2% for the rest of her life. Part of the gain was avoided altogether, and the part of the gain attributable to the gift annuity was stretched out over her remaining life expectancy. Had she sold the stock on the open market and then reinvested in some other commercial product, Uncle Sam would have expected his 15% share within seven months of the sale. The annuity also triggered a sizable tax deduction, which she will be able to put to use on her next tax return. Finally, a portion of the annual payments that was a tax-free return of principal really appealed to Ruth.

When Ruth passes someday, whatever is remaining in the residuum for the annuity will be added to the Planitz Fund, further bolstering what she started some years ago. Ruth's comments were, "What the heck, why not give it now? And I did! Maybe my brother is smiling ... "