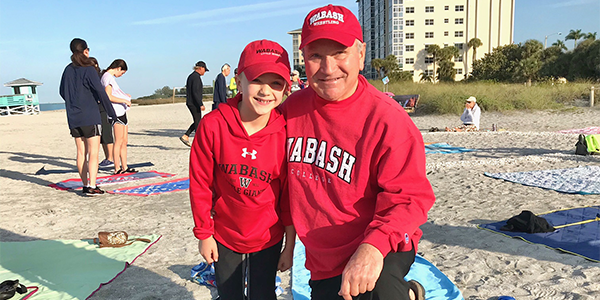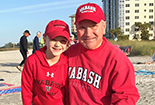 Looking back more than 15 years ago, Adam Miller '05 couldn't remember a time when his dad, David, wasn't there.
It didn't matter how far the tournament was, or if there were slim odds his team would win. David didn't miss out on a chance to watch his son, and his teammates, wrestle.
"He was always there," Adam said, recalling one tournament that sticks out most in his memory as a Wabash wrestler.
"We were set to wrestle at Luther College on a Thursday, had nothing Friday, and then a Saturday tournament at Simpson College. I was supposed to wrestle this kid who was a four-time Iowa State Champion and was a runner-up in Division III," he said. "So, some parents thought, 'What's the point? We're not going to drive nine hours just to watch our son get beat up.'
"For some odd reason, my dad went," said Adam, who beat the competition despite the odds stacked against him. "I beat him by 10, and dad was there to see it.
"That's sort of a euphemism for life. The more available you are, the more chances you have to get lucky. The more you give back to the people who matter to you, the better."
Investing in Students
Wrestling Coach Brian Anderson, who joined the program in 2004 and coached Adam as a senior, said the College's wrestling program wouldn't be what it is today without David.
"We are truly blessed to have him with us," Anderson said. "He is a very selfless individual who is always willing to help the guys, coaches, and program in any way he can. His passion for Wabash College and the wrestling program runs deep."
Even after Adam graduated, David has remained committed to the program.
"Mr. Miller has done more than his share for the Wabash College wrestling program over the last 20 years and I don't see him stopping anytime soon," Anderson said. "He created a mentoring program for us. For the last three years, he has solicited wrestling alums to pair with our incoming freshman, which has helped immensely by giving our young guys an instant relationship with a wrestling alum in the field they plan to pursue.
"I can't tell you how many Wabash College wrestlers he has guided and helped get into law school," Anderson added with a smile, "but it's a lot!"
David earned a bachelor's degree in political science from Indiana University in 1971, and a J.D. from IU McKinney Law in 1977.
He focused on employment and labor law and retired from Baker and Daniels (now Faegre Drinker Biddle & Reath LLP) in Indianapolis in 2012. During his career, David was recognized in the Indiana Super Lawyers magazine and as one of the best lawyers in America for 10 or more consecutive years.
David's the proud father of three: Adam, a Wabash history and political science major and Lambda Chi Alpha member who earned his master's degree from Washington University in St. Louis, is the Managing Partner of NuSiro Interventional and Principal of Archon Medical LLC, a medical distributorship in Missouri, focused on spinal implants for both orthopedic and neurosurgeons; Ashley, an Ohio University and Indiana University alumna who practices speech pathology in Atlanta, Georgia; and Amanda, a Holy Cross College and University of Saint Francis Fort Wayne alumna who works as a physical therapist assistant in Goshen, Indiana.
He has made it his mission to give — time, talent and treasure — back to the institutions that have helped shape his children into successful adults.
"I passionately believe that your university or college puts you in a position to go out into the world and be a successful contributor to your community and family, and that in return, you have an obligation to share some of that success," said David, who has donated to each of his children's alma maters. "Each of those schools provided my children, myself, and my late wife, Mindy, with wonderful education."
Giant Steps for Wabash
"I remain very much involved with the wrestling team, summer camps, recruiting, and fundraising, mentoring," David said. "My passion is the guys, Wabash and wrestling, and in that order. The guys are always first."
In 2007, he named Wabash as a beneficiary of his estate.
In 2012, David and Adam jointly committed a donation to the new Shelbourne Wrestling Center.
In 2020, he created the Miller Family Fund, which provides support for the College's History Department to supply needed funds for education-related travel exclusively for student. This may include, but is not limited to, immersion learning programs, travel to academic conferences, presentations and workshops; and student-led research in archives or libraries.
Most recently, he created the David W. Miller Scholarship at the IU McKinney Law School. This renewable scholarship is awarded to first-year J.D. students who are graduates of Wabash College. The scholarship is unique, and will be awarded to a student who has "shown the most development" during their undergraduate years.
"Years ago, Jon Pactor '71 told me that Wabash students frequently benefit from having adult mentors who do not evaluate them in class. I came to realize how right Jon was in observing how my wife, Jane Ann, interacts with students in our Moot Court. David Miller is another sterling example," said Associate Professor of Political Science Scott Himsel, who oversees the Wabash pre-law program and helped David create the IU scholarship.
"David has provided critical mentoring to a long line of Wabash wrestlers including those interested in going to law school. He's provided advice, mock interviews, and connections with law schools and law firms. And he's also provided me invaluable feedback as pre-law advisor," Himsel said. "David's creation of a scholarship at the IU McKinney law school focusing on Wabash students who have improved their performance is yet another example.
"I know that David learned about and came to love Wabash and its wrestling tradition through his son. But an observer unaware of this background would assume that he is one of our most supportive and enthusiastic alums," Himsel said. "The highest compliment I can give David is that I already regard him in this way."
David's greatest pride with all he has done for Wabash over the last two decades is seeing the students he's helped along the way grow into successful adults and follow in his philanthropic footsteps.
"If I had to identify a success of which I feel apart at Wabash, it is this pack of wrestlers who grew up to become wonderful and caring members of society, and are giving back for what Wabash did for them," David said. "They get it — give back what you got."