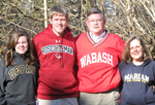 While still in high school, Eric "Rick" Cavanaugh '76 and his parents were assured by Bob Mitchum H '59 that Wabash College was a good investment. Rick proved them right. "I wanted to be a lawyer," he says, "and Mitch convinced me that I could get into law school and be successful." A litigation attorney at Duke Energy Corporation now for 25 years, he has clearly fulfilled his goals.

Rick credits his professional accomplishments to the knowledge he gained at Wabash. He explains, "My professors like Bill Placher '70, Peter Frederick H '92, David Hadley, and J.J. Barnes, demonstrated great intellect and served as a tremendous resource for learning to think through major life decisions. Wabash encourages students to be intellectually curious, which is at the heart of a litigation practice. In litigation, you are at the front edge of industry trends and are constantly learning new things." He appreciates the variety in his legal work, adding, "No two days are alike."

Rick also praises Wabash for providing him with numerous leadership opportunities as an undergraduate. As he acknowledges, "Those opportunities provided a life skill that is valuable in my career and in my personal life." Putting this skill to use, he has held leadership positions as President of the Indianapolis Bar Foundation for two terms, President of the Indianapolis Association of Wabash Men, board member of the National Association of Wabash Men, President of Phi Gamma Delta Alumni Fraternity, and many other leadership roles within Wabash College and elsewhere.

In order to support Wabash, Rick has made both annual contributions and gifts of life insurance policies. More recently, he and his wife Patti Paquin set up an endowed scholarship. He says, "I see young men of great potential who struggle financially; those men can make an impact on Wabash and become future leaders in the community."

While attending Wabash, both Rick and his younger brother Gary '79 received financial assistance. As first-generation college students, he says, "Our skills as good leaders are a direct result of our experience at Wabash."
He adds, "The alumni before us were generous in their support of scholarship efforts and enabled many of us to get assistance. My wife and I feel strongly that other students should have that same opportunity. An endowed scholarship can help students sooner and pay it forward."

He encourages others to "pay it forward" to ensure the success of future generations of Wabash men.