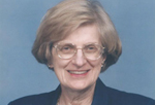 Sarah (Sally) Gustafson's son told her, "Mom, if you don't write grandfather's history, no one will." That story-which is to be a book entitled The Incredible Unknown Inventor: Chemist James Bert Garner, 1870-1960 -begins with a young man from Lebanon, Indiana, James Bert Garner, who entered Wabash College in 1889.

Credited with inventing the gas mask used in WWI, Garner was a distinguished inventor with over 25 patents in the U.S. and Canada-related to coal, natural gas, oil, rubber, the steel industry, home cooking appliances, and other areas. He also obtained a patent on the procedures for removing nicotine from tobacco. Sarah says of her father, "He was an incredibly inventive and creative chemist."

Garner received three degrees from Wabash: a BS in 1893, an MS in chemistry in 1895, and an honorary doctorate degree in science in 1950. Sarah, the youngest of Garner's twelve children, was 15 years old when her father received the honorary degree. She says, "I recall walking on the arm of then President Frank Sparks as we went to the dinner afterward." Garner also received two degrees from the University of Chicago, an MA and PhD in chemistry, was elected a member of Phi Beta Kappa, and graduated magna cum laude. While he was studying for his MS at Wabash he served as an assistant in chemistry and mineralogy; while working on his PhD, he worked as a Fellow and lecture assistant at the University of Chicago. He said of the latter experience, "I was self-supporting for the first time in my life."

While at Wabash, Garner had been a scholarship recipient. His father was a grocer, and Garner dropped out his sophomore year when his father became ill. Garner then returned to Wabash and finished his degree in three years while also remaining active in the Ouiatenon Yearbook, Phi Delta Theta social fraternity, and the Calliopean literary society. In his senior year, he was the only married man on campus. "He had enthusiasm for life!" says Sarah.

After receiving his PhD in 1897, Garner became head of the chemistry department at the newly founded Bradley Polytechnic Institute in Peoria, Illinois. In 1901, he returned to Wabash College to serve as head of the chemistry department, at that time the endowed Peck Professor of Chemistry. From 1901 to 1914, students who graduated under Garner were known as "Garner's men," and 18 of them went on to receive PhDs. One of Garner's former students, "Doc" Lloyd Howell, had the next largest number, with 17 of his students receiving PhDs. Garner fulfilled his goal of training leaders in science, technology, education, and business.

With a large family to support, Garner accepted a position as the Director of Research for various fellowships at the Mellon Institute in Pittsburgh, Pennsylvania, including Standard Oil Co., Hope Natural Gas Co., and Pittsburgh Des Moines Steel Co. In 1915 he read an account of the gas attacks on the British forces in WWI. The account prompted the invention of the Garner gas mask worn by thousands of troops and saving the lives of many soldiers.

Listed in Who's Who in America, Garner was recognized as a Fellow of the American Academy of Sciences, a member of the American Chemical Society, and a member of the Natural Gas Association of America. He belonged to the Masonic order, and was a member of the Presbyterian Church. He greatly enjoyed taking students to scientific meetings throughout Indiana and involving them in real-life problem-solving in community health and sanitation projects. He died in 1960.

To honor her father's achievements, Sarah and other family members have established the Garner-Gustafson Scholarship in Chemistry in Memory of James Bert Garner. Recent cash gifts from Sally and Gus, along with her brother, Dr. Charles Garner and wife, Helen, and Sally's son, Dr. Charles L. Gustafson, will help establish the fund; an additional amount is forthcoming from Sally's estate through a will provision. Additional support to benefit the fund will include royalties from her book, increasing the scholarship fund even more in the future. Based on merit and financial need, the scholarship will support Wabash students majoring in chemistry or biochemistry.

With pride, Sarah says that Garner was "a fine scientist and an outstanding family man." She adds, "Father often said, 'If it hadn't been for Wabash, I wouldn't have achieved what I did.'"