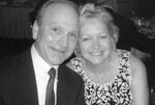 The first time Adam Miller '05 visited campus, his dad, David Miller, saw that Wabash was a special place.

"Not only could my son get an excellent education, I could see that Wabash creates a supportive environment where risk taking is encouraged," said Miller, a retired lawyer with Baker & Daniels.

One professor said, "Your son will fail here; everyone fails at something here. Better to fail here because we will pick him up and get him going again." Only at a place like Wabash could that statement be true, Miller said.

He and his wife loved everything about Wabash-the congenial atmosphere, the classes, the fraternity house, the football games, the tailgating, and especially the wrestling. One reason Adam chose Wabash was because it would allow him to continue competing in a sport he loved. Also, Wabash's small class sizes lent themselves to plenty of Q&A and discussion and were perfect for Adam's interactive learning style.

"The Wabash family of students, parents, and alumni helps your son make good choices and prepares them to succeed, not only on campus but in their lives after graduation," David Miller said. That "family" has remained close to the Millers and lent support during tough times such as the death of his wife.

Today Adam works for a St. Louis medical company and talks to doctors about a device that minimizes bleeding during surgery. "I know why I went to Wabash," he told his dad. "I am able to talk at a high level with anyone about anything and make sense of it."

"With a grateful heart" David Miller supports Wabash in numerous ways. He volunteers at the June wrestling camp to help keep camp fees low and expose more high-school students to Wabash. Once he retired in 2006, he had less income and decided he needed to be creative in giving to the College. He made Wabash the partial beneficiary of a 401(k) plan.

"If you or your children take money out of the 401(k), you have to pay income tax," he said. "If you leave it to your kids, they have to pay income and estate tax. None of those taxes apply when you leave the 401(k) to a nonprofit like Wabash. It's a great way to get a dollar's value out of each dollar and support a well-rounded learning experience."