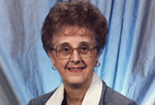 Carol Dyer's husband, Mr. Robert "Bob" R. Dyer '37, was one of seven men in Carol's family who graced the halls and classrooms of Wabash between 1867 and 1937. These men included Carol's great-grandfather, her father, her brother-in-law, three uncles-one of whom was Dr. Robert Bruce '22 who served on the Wabash faculty, teaching psychology for more than 40 years-and of course, Carol's beloved husband Bob. Not only did Carol's father earn his undergraduate degree in 1916, but he later returned to receive an Honorary Doctor of Divinity in 1932. With further help from Wabash, Bob left Crawfordsville for Cambridge, Massachusetts, to earn his MBA from Harvard in 1939, but later returned to resume his Hoosier residency and to marry Carol Martin.

Bob spent most of his career in the personnel department at Inland Container Corporation in Indianapolis, further serving the community as an elder in his church and participating in various professional organizations around the city.

During a recent visit by one of Wabash's advancement officers, Carol fondly, and with hearty laughter, referred to Bob as her "liberal boyfriend" commenting on the newly-found political views he discovered while at Harvard. She said, however, that he later reformed his views and became staunchly conservative in his politics and religion. Carol, herself a dedicated Presbyterian, asked the visiting advancement officer who was lunching with her and her daughter that day, if she could say grace before consuming their meal, a request the advancement officer didn't dare refuse. At 92 Carol is full of smiles and laughter. She is quick-witted and remains inquisitive about her husband's alma mater, Wabash College.

Carol has been widowed from her Bob for nearly 33 years, and never remarried. "It all just sounded too messy and complicated to remarry," she quipped followed by another chuckle. It was only 18 months after Bob's passing in 1980 that she contacted the College to set up a scholarship bearing his name, which is also meant to honor the many generations of Dyer men who attended Wabash. An initial cash contribution established the fund and Carol, with the help of her daughter, Elaine Dyer-Rainey, recently revised her will to make way for a substantial provision which will further bolster the existing Dyer Memorial Scholarship fund. This increase will make it possible for more Wabash men to better afford the ever-increasing expense of a solid, liberal arts, college education, one that her husband deeply appreciated. A recent re-write of the scholarship document simplifies the ability for the College to administer the fund, and once it begins, to make an award. Carol Dyer-you're "some Little Giant!"