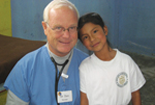 By David Troutman, Director of Gift Planning
I visited with Don Kerner '62 just a few years ago, as he was helping rally his classmates to pull off their 50th reunion. He'd called me and invited me to join him for lunch, where among other things he wanted to discuss his gift to Wabash as part of the 50th Reunion Class Gift campaign.
Don grew up on the south side of Indianapolis during the 1940s and '50s as the son of a railroad worker, and he graduated from Manual High School. He shared that his family had no wealth to speak of, and he had not a clue if college was financially possible. However, one Saturday morning two of his high school classmates grabbed him, pulled him into a car, and off they sped on a trip to the great metropolis of Crawfordsville, Indiana, to look around the Wabash campus. While there for what he thought would simply be exploring a college campus, Don immediately knew that Wabash was the place for him. But he didn't know how he would be able to afford it.
After looking into his options, Don discovered a combined scholarship/loan program whereby if he graduated from Wabash he was only responsible for a certain amount of tuition. As Don was about to graduate-with a new goal of figuring out how to pay for IU Medical School-word of his lack of financial means reached the desk of then Dean of the College Ben Rogge. Dean Rogge later called Don into his office and disclosed that he was aware of Don's predicament. The dean then shared with Don that he would be awarded a MacIntosh Scholarship that would pay for his first year of tuition at medical school.
Don shared that when he graduated from IU his total bill for Wabash amounted to no more than $250, which was not due until after residency and two years in the Navy.
As Dr. Don Kerner told his story and reached the part about the MacIntosh Scholarship, I noticed lips starting to quiver, a voice beginning to break, and eyes glazing over with tears. I was barely able to fight back the tears myself, as it was obvious how this impacted him. I was moved by his tenderness and sincerity, proving his appreciation for what Wabash has meant to him over the decades since his walk across the stage to receive that sheepskin diploma.
Don's love for Wabash clearly runs deep, and he informed me of his desires to make room for Wabash in his estate plan through a partial IRA beneficiary designation-but not before concluding our lunch with another fantastic, humorous story.
Don shared about how the tiger mascot suit from DePauw had been swiped, and he, as the student body president, was driven by Dean Rogge down to a meeting with the president of our rival school. DePauw's president apparently ranted, threatening grand theft larceny due to the value of the suit and further emphasizing how it would significantly blemish someone's record.
Dean Rogge, in the car ride back to C'ville, shared with Don how indignantly he wanted to respond to the accusation that someone from Wabash would actually take the suit. No sooner had the dean finished that sentence than Don, in a rather sheepish voice, said, "Well, Sir ... actually, I would not be too indignant…." Don shared that the dean did not want to know the name of the classmate who took the suit-but that it had better be on his desk by that Friday night. And so it was on his desk … that Friday night.
Don's gift to Wabash is simple but deeply meaningful to him and his family and to Wabash, as he carves out a small piece of his life's accomplishments to give back to the institution which prepared him to accomplish so much. For such a generous and loyal provision, Wabash is deeply grateful. "Some Little Giant" you are, Don!