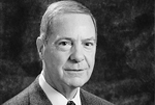 Ross Faires (Wabash '58) and James Baker (DePauw '53) maintained a special relationship. Their lives initially became intertwined as colleagues at Arvin Industries of Columbus, Indiana, where their collegial relationship resulted in a life long friendship. Ross earned his MBA from Indiana University and James (Jim) obtained his MBA from Harvard Business School. While Jim spent his entire career at Arvin, Ross eventually left Arvin for other business interests. Ross and Jim both developed a respect and admiration for Dr. Frank H. Sparks, who was co-founder of Arvin prior to his serving as president of Wabash College from 1941-1956. Under Jim's leadership, Arvin was transformed from a domestic conglomerate into a global leader in the automotive parts industry. Both men gave of their time, talent, and treasure to their local communities. Ross faithfully served as a trustee of Wabash College from 1991-2004 and subsequently as emeritus trustee. Jim served on many boards at the regional and national levels with interest in improving the U.S. educational system. Their friendship epitomized the beauty of rising above institutional arch-rivalry to truly work hand-in-hand with a deep and abiding mutual respect and admiration.
Such was the level of Jim's respect for Ross that in 2012 Jim notified the Wabash Advancement Office of a bequest provision in his will made years earlier to eventually honor his Wabash friend. Upon learning later that same year that Ross's health had taken a sharp turn for the worse, Jim chose to advance his bequest to Wabash to express his support for Ross. In December of 2012 Jim faced his own challenge when he was diagnosed with cancer. Shortly afterward, in January of 2013, Ross passed away. Only 6 months after Ross's passing, Jim also died.
A gift officer from the Advancement Office decided to visit the widows of Ross and Jim to ask about combining Jim's gift with a life insurance payout Ross had made in order to create the Faires-Baker Scholarship fund. Not only was permission granted, but the idea was warmly embraced by Glady and Bev. Starting this year, the Faires-Baker Scholarship will further the mission of Wabash by educating men to think critically, act responsibly, lead effectively, and live humanely. Wabash is deeply grateful to these two men and their wives-as Wabash and DePauw alums unite to leave their legacy and make a difference in the lives of Wabash men for decades to come.