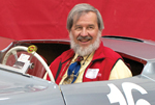 Dr. E. Ray Knight '69, grateful for the scholarships that enabled him to attend Wabash and then go on to medical school, recently decided to donate half of the proceeds from the sale of his car. Not just any car: It was a lovingly restored one-of-a-kind Porsche that sold for a million dollars.
The income-creating gift establishes a charitable remainder trust that makes payments to Dr. Knight and his wife Yvonne for life, with the remainder then going to Wabash to establish a scholarship fund. "The cash flow is better with a charitable remainder trust than tucking it in my own funds," he explains.
Ray was orphaned at a very young age and was raised by an aunt and other relatives in the Indianapolis area. He went out on his own at 16-yet was valedictorian of his high school graduating class. "I couldn't do sports, and I wasn't socially cool; grades were what I could do," he recalls. "Plus my aunt who helped raise me demanded it."
A Wabash representative visited Ray's high school during his junior year and suggested he apply for early admission. He visited campus and was offered a scholarship and never applied anywhere else. "I was an orphan kid who got a full-ride scholarship for Wabash, and it really worked for me," he says. "I have wanted to pay back and pay it forward for some time."
From chemistry to medicine
As a young college student Ray initially thought he wanted to be a research chemist, but his role as campus photographer exposed him to a wide range of possibilities and helped lead him toward medicine.
"I photographed Allen Ginsberg, Eugene McCarthy, and Bobby Kennedy-just two days before he was killed," he recalls. "I decided I wanted to be more involved in the world and that maybe medicine would do that."
With a Wabash degree in chemistry, Knight was accepted by Johns Hopkins, one of the most prestigious medical schools in the country. It was while at med school in Baltimore in the early '70s that he bought his first used Porsche; he had already been fixing up old Volkswagens, and the two companies collaborated on many vehicles. He continued the hobby after becoming an internist and opening a private practice in Jeffersonville, Indiana, where he still lives and works; he also teaches at the University of Louisville, where he serves as clinical professor of medicine and has received several teaching awards. Ray and Yvonne have been married for 38 years and have two adult sons, one of whom attended Wabash for part of college.
The million-dollar find
It was in 1982 that Knight came upon the find of a lifetime. "I heard about a Porsche that some junkyard guy owned that was unusual and nobody really knew what it was," Knight says.
The Roadster had a missing engine, had been in a fire, and had sat outside in all weather since 1958. But Ray was intrigued and bought it anyway and began doing research to discover its origins. It turned out to be the only Porsche Roadster built by German racing enthusiast Heinrich Sauter, in 1951. The steel body, enlarged engine, and racing history made the "Sauter Roadster" extremely unique and a missing link in the evolution of Porsche Roadsters.
Ray devoted 4,000 hours to completely restoring the vehicle, which became an award-winning star of car shows, and he traveled to Germany to make sure the car's history was accurately documented.
"I bought this car for $4,500 as a toy, not an investment," he says. "But as the years went by I would keep hearing that maybe it's worth $100,000, or maybe now $250,000, maybe now half a million, and I thought, 'Yea, right.' Well it turns out that it was."
But it took a long time for Ray to actually decide to sell his labor of love.
"I had rationally decided I needed to sell it 10 or 12 years ago, but I am so known for that car in a lot of circles that it took a while for my gut to catch up with that," he says. "Then it took another five years to decide how I wanted to sell it."
Funding the Wabash charitable remainder trust with a portion of the proceeds helped to offset the capital-gain tax on the vehicle, which sold to a private collector last year. Ray has refocused his hobby activities as an accomplished woodworker, making guitars and period furniture.
A windfall for Wabash
Ray describes the sale of the Porsche as "a windfall for Wabash and a windfall for me." And he is very clear on why he wanted to share that windfall with his alma mater.
"I am grateful for the scholarship help," says Ray, who returns to campus often for alumni events and keeps in close contact with his primary mentor at Wabash, emeritus professor Dr. John Zimmerman. "I also want to say that what I gained from Wabash is not so much the learning-specific knowledge as the ability to figure things out. It's the confidence that if you need to solve a problem you can figure out how to access the information and come up with a solution. That has been more valuable to me than anything."
Footnote: Ray Knight Wally at the Wheel YouTube presentation can be viewed at https://www.youtube.com/watch?v=Ml_efWX5juc