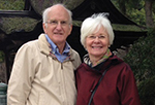 Dr. Stan Vogel '66 started a stream of family members who have attended Wabash College, and he is currently receiving a stream of income from a gift of real estate that will eventually provide Wabash with a significant amount.
"I was part-owner of a medical office building in Topeka, Kansas, that we bought some time ago, and the local hospital wanted to buy it," Stan explains. "My concerns were that there was quite considerable appreciation that would have been subject to capital-gain tax, plus the loss of the revenue stream (from rent). I talked about setting up a charitable remainder trust with my accountant and with David Troutman (Wabash's director of gift planning, who during a visit diagramed the essentials of the trust on a coffee shop napkin), and it seemed like it would serve several purposes:
Provide financial support for the College
Help maintain the revenue stream that would have been lost
Avoid the capital-gain tax
Provide an income-tax deduction in the year the trust is set up
"And all of those things have come to pass!"
Grateful for his scholarship, Stan wishes his gift were larger
Since the 2014 deal, Stan has advised several others to consider such a trust. "The process was a little intimidating at first, but it got done in a short period of time," he says. "If I have any regrets it would be that it's not bigger than it is. I received a full scholarship plus a stipend, which was very generous of Wabash. Because of that I feel compelled to give."
Stan started giving in earnest about 25 years ago when he and his younger brother Gordon '72 and their wives established a scholarship in honor of their parents that provides assistance to an entering freshman. Gordon, who is also a physician, began a stream of Vogels following in Stan's footsteps: cousins Ron '81 and Kurt '89 and Gordon's son Todd '04, who also became a doctor.
"Wabash has always had a good track record of getting people into programs for graduate studies, such as medical school," said Stan, who went on to ten more years of education to become a hematologist and medical oncologist. Now retired, he lives in Topeka with his wife Sandra, who still works part-time as a pastor. They have two sons and four grandchildren. Even Stan's mother Margaret, now 95, got involved with Wabash, establishing a gift annuity several years ago.
"After growing up in a really small town, Wabash opened a lot of horizons I hadn't caught sight of yet," Stan says. "I want to return the favor."