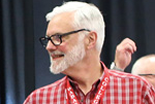 Dr. Gary Dillon believes in the value of hard work, which is why he and his wife Ann are establishing a scholarship for Wabash students who have demonstrated their work ethic-and funding it with a blended gift from his IRA that includes cash from annual distributions plus a beneficiary designation. Gary learned all about hard work while growing up on a farm, but its value was further instilled during his years at Wabash when he was expelled-and then allowed to return to complete the education that launched his professional life.
"I started at Wabash in 1961 and spent most of my time with the class of '65 but didn't graduate until 1968," explains Gary, a successful dermatologist who still has a practice in Fort Wayne, Indiana. "The truth is that I was enjoying the uptown party life too much, and I was expelled. But after my suspension I was allowed back in, and I always felt grateful for getting that second chance from Wabash and Dean Moore." (The late Norman Moore served as dean from 1959 to 1984 and developed a legendary reputation for being both tough and fair.)
Gary made the most of his second opportunity, completing his degree in history with a minor in psychology while taking extra classes to get all the prerequisites for medical school at Indiana University.
"I thought Wabash was harder than medical school; when you left Wabash you knew how to study," Gary says. "When I look back on my life, I wouldn't be where I am today without my Wabash education and the lessons I learned there, which were not entirely in the classroom. And I want to pass that opportunity on to other people."
The Dillons chose to fund their scholarship with a multi-year pledge so they can start helping students now but also keep endowing the fund. Using Gary's IRA for both the annual and testamentary gifts seemed like the best choice.
"You have to take money out of your IRA every year after you reach the age of 70½, and that is how Ann and I make a lot of our charitable donations," Gary explains. "And an IRA beneficiary designation is easier than adding to your will."
Gary and Ann, who live outside of Pierceton, Indiana, have been married for 47 years and have four children and nine grandchildren. They met when Ann was working as a reader for renowned Professor Emeritus of History James J. Barnes, who taught at Wabash for 44 years and is blind.
"My senior year I got behind on a history paper-the only late paper I ever had," Gary recalls. "I took it to Professor Barnes's office, and there was Ann. That's another reason I feel so strongly about Wabash: It's where I met my wife. It's a great place, and I have a deep, deep debt of gratitude."