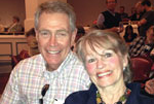 Jim Cumming '61 has six grandchildren and wants to help all of them pay for their college educations. He's doing it through a gift to Wabash College, which he credits for launching his career of more than 50 years as an Indianapolis pediatrician.
Jim and his wife Susie several years ago established a charitable remainder trust that provides payments to each grandchild while they are in school, with the significant remainder eventually coming to Wabash. Wabash will also get the remainder from a deferred charitable gift annuity the Cummings set up to augment their income when Jim retired-which he did this spring at the age of 78. The two "life-income gifts" that provide tax savings and flexibility are in addition to the yearly contributions that Jim and Susie make to Wabash's annual fund.
"Wabash provided me with a great education that was very key to my medical school admission," says Jim, who earned his MD degree from Indiana University in 1965. "After that I would have to say that the most important thing I gained from Wabash was admission into an alumni group of 9,000-plus that includes very close friendships with so many people."
Star athlete gets help applying to med school
Jim grew up in the small city of Bedford in southern Indiana. A star athlete who stood 6-foot-6 and played basketball and football, he was attracted to both the academics and athletics at Wabash.
"A couple of my coaches in high school were Wabash graduates and my older sister married a Wabash man, so I had knowledge of the school," Jim recalls. "I knew I was interested in medicine, so I wanted to attend a school that had a good academic reputation-and at the same time I wanted to continue in sports. I visited quite a few schools in Indiana and in the South, but my heart was always pointing toward Wabash."
Jim majored in zoology and starred on the basketball team. His 23 rebounds in a game still stands as the Wabash school record, and he ranks second in career rebounding average at 8.9. His focus on basketball led to an incident in which a Wabash educator went out of his way to help him-the kind of "Wabash Way" story that you can hear from almost every Wabash grad.
"As a senior student, I had allowed the demands of an NCAA basketball tournament and a heavy Division I schedule to so completely consume me that I missed the deadline for application to medical school," Jim relates. "Dr. Willis Johnson-who so many of us revered as a dedicated and brilliant teacher, as a role model without parallel, and as a father figure who was a stern but encouraging taskmaster-looked at me thoughtfully as I explained my failure, as if to say 'I can't believe you allowed this to happen.' He leaned back in his office chair, picked up the telephone, and in a few moments said, 'John, I have a young man here who has been delinquent in applying to medical school. Can you help us?' He was speaking to Dr. John Van Nuys, dean of the School of Medicine at Indiana University and one of his former students. His words apparently carried some weight, because the next day I was in Indianapolis interviewing for a place in the freshman class. I suspect I am not the only procrastinating student to have benefited mightily from Dr. Johnson's tutelage."
Revered doctor gives back to Wabash
After medical school, Jim joined a pediatrics practice in Indianapolis and gained a reputation as a doctor who took care of children with a kind and compassionate heart. He was repeatedly elected by his peers to the list of "Top Doctors" published annually by Indianapolis Monthly magazine, and about a decade ago his son Jim joined his practice.
"I really enjoyed working with my son; it's one of the reasons I waited so long to retire," Jim says.
As the Cummings planned, the deferred charitable gift annuity began augmenting their retirement income earlier this year, and Jim and Susie couldn't be more pleased.
"I wanted to delay the payments for as long as I could, partly because the income stream wasn't needed and partly because the income is increased the longer you wait," Jim explains. "We are up to a 7% annual payout, and that's pretty good."
Jim says the gift annuity was especially easy to set up with Wabash and did not even require the services of an attorney. "We worked with the Wabash staff; David Troutman (director of gift planning) is very knowledgeable, and the process is quite simple. They did everything for us."
Jim and Susie funded both the gift annuity and the charitable remainder trust with appreciated securities, which saves them the significant capital-gain tax they would have had to pay if they had sold the stock and then given cash to the College. They also received a charitable deduction on their income tax for the year they made each gift.
"It's a no-lose way to support your school and also accomplish any goals you might have," Jim says. "We now have two grandchildren who have graduated from college and benefited from the proceeds, and four more in the wings. Wabash appreciates it, and our sons John and Jim and our grandchildren appreciate it."
And Jim certainly appreciates Wabash.
"I have been fortunate over the years to maintain a close relationship with the College, and I am so enthusiastic about the course the College is taking and the quality of the product," says Jim, who served on the College board of trustees for 20 years and before that was on the board of the National Association of Wabash Men. "We all tend to look back on our years as halcyon years that can never be matched, but I think the College is currently in the best shape it has ever been. We have a terrific administration and wonderful, dedicated professors. I don't think the College has ever been in better hands or produced better students."