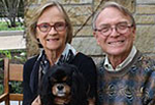 When an investment expert like Fred Ruebeck '61 recommends the IRA charitable rollover and charitable gift annuities-two types of gifts he has made to Wabash College-donors listen. Fred was director of investment administration for Eli Lilly and Company for many years and also served for 17 years as chief investment officer for Wabash, helping build the College's endowment. Now Fred is urging others to join him in setting up an endowed scholarship fund at Wabash that will help first-generation students like himself.
"The IRA charitable rollover is an easy and tax-efficient way to start the process of getting involved with your college financially," says Fred, the son of German immigrants who chose Wabash over MIT because of the scholarship support he received. "The gift Wabash gave to me besides the financial gift was a maximum liberal arts education."
Two years ago Fred and his wife Beverly also set up a charitable gift annuity that pays them income for life, with the remainder eventually going to Wabash. "It supports our retirement," says Fred, who complimented Director of Gift Planning David Troutman for helping with both gifts.
No matter how you structure your gift, Fred is requesting that you consider contributing to the endowment fund of your choice or perhaps creating your own scholarship fund. "I want my scholarship money to go to a first-generation college student, which Wabash has a generous proportion of," Fred says.
Fred is one of those first-generation students whose parents were Indianapolis tomato farmers. With stellar grades in high school, Fred was considering MIT when Wabash offered him the prestigious Honors Scholarship. Fred majored in chemistry and served on the house board of the Sigma Chi fraternity (and years later helped raise money for the fraternity's new house).
During the summers while at Wabash Fred worked on his parents' farm helping them rotate crops, adding radishes and green beans. The income from those new crops helped him pay for Harvard Business School, where he added an MBA to compliment his Wabash degree. Following Harvard, Fred was recruited by Lilly where he worked for 37 years-the last half of his time there was spent managing the pension fund. A highlight of Fred's career occurred when Eli Lilly was contacted by the Mayor of Indianapolis who was seeking support from the Lilly Pension Fund to get behind investing in what eventually became the Circle Center Mall. Fred spent considerable time talking with local corporations and business and industry leaders while also working with Simon Properties to create a funding plan, which resulted in what has remained a popular downtown shopping attraction for several decades now. While at Lilly, Fred also generously gave of his time and talent by serving on the Wabash Board of Trustees for 30 years and is considered one of the College's top donors and volunteers.
Fred and Beverly married in 1982; and with two children and three grandchildren by Fred's first marriage, they are now retired and remain living in Indianapolis. Fred has been extremely active in the Indianapolis community, including with the symphony, ballet, and his church. He also served on the board of the National Association of Wabash Men. As a longtime Board of Trustees member, he is intimately familiar with all aspects of the College.
"The faculty has always been topnotch, and I think the College is even better today than when I attended," Fred says. "The leadership skills you learn, the brotherhood you become part of, and the liberal arts education you receive all make Wabash an experience that is deserving of our support."