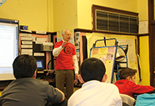 John Burrell '69 chose Wabash over Notre Dame because of the welcoming way that his tour of Wabash was conducted-and he has never regretted the decision. Now he is giving back with a gift of a life insurance policy that will provide his alma mater three times what he paid for it.
"When I visited both schools, I asked about playing sports and working on the college newspaper," Burrell recalls. "At Notre Dame I was given a tour by a freshman student who told me that if I wasn't all-state in a sport or editor-in-chief of my high school paper that I didn't have much chance of participating. At Wabash I was given a tour by the dean of admissions, who told me that the school newspaper needed people and that everybody who goes out for a sport gets to participate-and he added that doesn't stop Wabash teams from usually having winning records. He spoke the truth: My junior year I was on the Little Giants wrestling team that defeated Notre Dame."
John went on to earn an MBA and a long career selling computer products, retiring in 2014. With his 50th reunion fast approaching in 2019, he wanted to make a significant gift and began exploring his options. He wound up donating a life insurance policy-and he believes the strategy could be an effective one for other Wabash alumni.
"I had this whole-life policy that I was still paying on every month, and I had built up quite a cash value" John explains. "I called my agent and said, 'Can I get rid of this policy that I keep paying on and take the cash value and buy a new policy that has a single premium that equals my cash value?' He said yes. The new policy will pay out three times my cash value when I die, and I have given it to Wabash. And I got quite a tax deduction for it."
John cautioned that others considering such a strategy need to carefully examine the policy's fine print with their insurance agent; he had to wait two years after getting the new policy before he could donate it. Wabash also had him get a certified appraisal of the policy's value.
"I want people to know that there are lots of different ways to structure a gift," John says. "I made a pretty nice gift without paying anything more than I had paid already."
John was extremely active as a Wabash student, running track and cross-country in addition to wrestling, working on the school paper, heading intramurals for one year, and active in the Kappa Sigma fraternity. He then attended the Wharton School at the University of Pennsylvania, one of the most prestigious business schools in the nation.
"The broad-based liberal arts education at Wabash prepared us very well," John says. "Of my graduating class, 77 percent went on to graduate school."
Like most Wabash grads, John has a "Wabash Way" story of an educator who went out of his way to help on a personal level. He was doing poorly in biology and mentioned it to the late Tom Cole, head of the department who graduated from Wabash in 1958 and served as the Norman E. Treves Professor of Biology at the College for more than three decades.
"I wasn't getting it and wasn't relating to it, and I was venting to him," John recalls. "And he looked at me and said, 'This shouldn't be happening. You should be learning to love this subject.' The way he said that to me, it really stuck-and not just with biology. I have tried to take that approach with everything I have had to learn."
John is grateful for his Wabash experience for one other reason: During college he met his wife Cindy, a student at nearby DePauw University. They have been married for 48 years. They each went on to have successful careers in business, John in computer management and sales and Cindy in retained executive search. In 2011 Cindy formed Diversity in Boardrooms and has become a nationally known advocate for corporate board diversity. They worked together in raising their two sons, Matt and Mark.
"We've already taken care of our kids and already taken care of our church (in our estate plan)," John says. "So it was time to take care of the college where two of the most important things in my life happened: I got into grad school, and I met my wife."