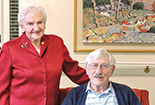 One newspaper route, two spontaneous conversations, and a ticket to a new life.
Bob Kellogg '55 was raised in Columbia City, Indiana, by his grandparents; though he didn't really think about it at the time, he knows now that he was "a poor kid." After his grandfather died when he was seven, his grandmother rented out rooms of their house and did laundry for the neighborhood to keep Bob fed and clothed.
Bob did his part too: when he was 10, he started a paper route. A paper route that a few short years later would change his life.
Now, after a lifetime of giving, Bob and his wife Ellen are making one more life-changing gift to Wabash College: their planned gift will drastically grow the Kellogg Scholarship fund, which they've previously established, and will help generations of future students to attend Wabash College.
And it all started because of two people who lived on ten-year old Bob's newspaper route.
Bob and his grandmother lived a few blocks from one of the most prominent homes in Columbia City, a house that Bob remembers as "a mansion on a hill" where a local businessman lived. Bob delivered newspapers to the home for years without knowing how important the man behind the mailbox would be.
As a high school student, Bob entered speaking competitions. After his debate team won the state championship, the town raised money to send the team to the national championship in California, and a picture of the team ran in the same newspapers that Bob delivered each morning.
One morning, as Bob delivered the paper, he found a Mr. James D. Adams (class of 1909) waiting to speak with him. Adams was a local businessman, a trustee of Wabash College, and a past president of the National Association of Wabash Men. He had one question for Bob: Are you going to college?
"I said no." Bob couldn't afford it. But Adams kept pressing, mentioning scholarships and telling him he should at least apply, and he finally painted Bob into a corner.
"He said, 'Bob, if I get you an application to Wabash, will you fill it out and send it in?' Well, I had nothing to lose. I said, 'Sure, I'll do that.'" When the application came, Bob filled it out, and he was surprised to find he'd been awarded a hefty scholarship that would make it possible for him to attend Wabash, if he could just pay for room and board.
At another house on Bob's paper route that summer, a similar spur-of-the-moment conversation occurred. The house was owned by a man who managed the local manufacturing plant, where Blue Bell Inc. made Wrangler Jeans. Bob needed a summer job to save some money; the manager needed reliable employees. They made a deal.
Bob started a few days later, working in the shipping room for minimum wage—40 cents an hour—and working hard. That was all it took to change the course of his life.
For the next four years, Bob worked at Blue Bell in between semesters at Wabash (and even on spring and fall breaks). He worked hard at school, and he worked hard at Blue Bell; he made mistakes at both, but he always showed up.
After graduation, Bob was hired as an engineer trainee by Blue Bell. Thirty-seven years later, he retired from the company as Vice President of Manufacturing. The years in between at Blue Bell are a story of their own, but those years—and his meeting another special someone—are all possible because of a chance conversation.
It was while working at Blue Bell as an 18-year-old that Bob first met Ellen. They met in the sewing room, when a friend of Bob's had decided to ask her on a date. Bob asked her first. It was the first time they talked.
Now the two have been married for over sixty-five years. They've moved across the country, raised a family, and retired happily together. All because of a paper route.
Ellen and Bob both know the importance of an education like the one that allowed Bob to rise through the ranks at Blue Bell. They've impressed that idea on their children, who took it to heart: their four children now make ends meet as a dentist, a nurse, an engineer, and a teacher. The Kelloggs didn't stop with their own children, as their giving at Wabash has shown.
Bob knows there will be students at Wabash who wouldn't be there without their generosity, and he gets emotional at the thought. "I couldn't have gone to college without a scholarship. And I can hardly tell this story without tearing up, because of the assistance that I got from James D. Adams, because of the opportunity I got at Blue Bell. If I can contribute to that happening for future students…"
Ellen has to finish the thought for him. "We actually owe our lives to Wabash."
Bob has named the College as a beneficiary of his Individual Retirement Arrangement (IRA), and he passes along his required minimum distribution every year, taking advantage of the qualified charitable distribution option to charity. By doing this, Bob doesn't pay any income tax on the distribution to Wabash. Bob and Ellen established their scholarship fund to give preference to students from Whitley and Noble counties, which are both largely rural, as a way to feel connected to where they were raised.
Bob's never been sure if Adams personally funded the scholarship that allowed him to attend Wabash, but, he says, "I know we're proud to follow in his footsteps either way."