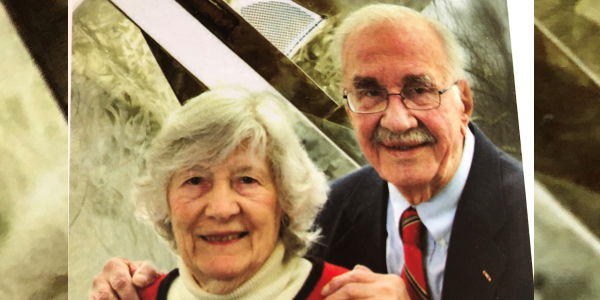 On September 11, 2001, as I was leaving the Detroit Country Club after meeting with an alum for breakfast that morning, I walked past the security office around 9:30 am at the front entrance and I noticed two employees glued to the TV. Images of planes crashing into the World Trade Center towers were playing over and over again. Of course, people were horrified, and while I was a little unsure about what to do next, I decided to go on to my next appointment.
Upon my arrival at the Henry Ford Village in Dearborn, Michigan, I was greeted by Al Baur '49, who asked me if I knew what was going on and invited into his living room where we sat for the next four hours, watching in disbelief the catastrophic events of that day. That was my first visit with Al and his wife, Martha.
I returned to Detroit over the next several years and as time went by, Martha soon passed. Each time I visited, Al and I would have a wonderful conversation together, often over lunch, and each time I left, I would look up, waving from my car window at that fourth-floor condo and see Al waving back. I have to admit it was hard leaving him behind. He was lonely and when I'd visit, he would keep me for hours. I didn't mind as I very much enjoyed his company. He was a gentle, soft-spoken soul who missed his Martha very much.
Fast-forward to 2006-as Al's health declined over the years, he moved from Dearborn to a new location in Muncie, Indiana, to be near his brother and other family. I continued to visit with Al a few more times before his passing in October 2007 and still remember fondly our wonderful conversations over the years.
All the while I also visited with his brother Bob '49 in Muncie as we had our own interesting conversations. Following Al's death, I sent Bob a sympathy card and expressed in it the joys of visiting with his brother, as well as my sorrow for his loss. I went to the funeral and met many members of the Baur clan, and it was there that Bob thanked me for the card and asked me to come visit him again soon.
Several months later I knocked on Bob's door and he answered with a big smile and a "what can I do for Wabash?" That began a closer friendship with he and wife Joanne over the next several years. We had a favorite place to hang out in his living room-Bob had his chair with a table next to it that kept his pipe and tobacco-and I would always sit in the chair next to the TV, which was often on with the sound turned off during our visits so that Bob could watch screen tickers and financial information on news programs while we chatted.
Always the wonderful host, Joanne offered me coffee and occasionally, a tasty treat to go with it. It was there in those chairs that we would visit for several hours and solve the world's problems-well, maybe not, the talk covered everything from family, to weather, to politics, religion, sports, and of course, Wabash. In that first visit with Bob after Al's passing, through quivering lips, watery eyes, and a broken voice, Bob lavished upon me how much he appreciated my sympathy card.
As I left with a few wet eyes of my own, Bob handed me an envelope to bring back to campus, commenting "put it to good use." It was no ordinary check. I asked him what he wanted us to do with it and he said "let's talk about it the next time you're back-don't stay away too long."
Three or four months later, I returned to see Bob and Joanne, and as we sat for several hours in the same chairs, talking about the same things, again, Bob sent me back to campus with yet another envelope.
Over the next few years, Bob would send me away with additional checks and over time it started adding up to something fairly significant. Once again, I asked Bob what he wanted Wabash to do with his gifts. After much discussion and lots of questions, he settled on creating the Baur Family Scholarship.
Through the creation of that scholarship and all of those visits over nearly 15 years, I learned a lot about Bob-his very humble beginnings, his career and entrepreneurial skills, his interest in history, his creation of a family foundation, his restoration of an old countryside, turn-of-the-century church building, his admiration for his father, and his appreciation for Wabash. Before he passed, I was invited by Bob's daughter, Ann Whitlach, to come visit with Bob one last time. I held mixed feelings, but wouldn't have missed it for all the world.
When I walked inside the house, we sat in our same chairs, only this time it was different. Bob was in his bed clothes and looked a little battle-worn, but he managed to put on a subtle smile for me that day. There was no pipe for him to smoke this time and within 20 minutes, we parted ways for the last time-no easy task for me. Bob passed away a few weeks later in October 2015. During our many conversations, he asked me about ways to leave a bequest and he settled on leaving a retirement account, which nearly doubled the cumulative totals of his gifts over the previous five years, and today, the Baur Family Scholarship has endowed nearly a full-tuition scholarship and has benefited XXX students since it began making awards.
The last time I saw Joanne was in early December 2019, just before Christmas. She was living in a wonderful senior living apartment in Muncie and I was able to sit and enjoy her company. Each time I think of the Baur family, I smile big as I'm reminded of the tremendous generosity and those words "What can I do for Wabash?"
One day, perhaps one of the recipients of this wonderful scholarship will share those same words, 30, 40, or 50 years from now, with another Wabash fundraiser like myself. How wonderful it would be to know that Bob's philanthropy might inspire other Wabash men to follow in his philanthropic footsteps … Giant Steps for Wabash.